VIRTUAL APPEARANCES
COVID-19 has directly impacted hundreds of pop culture conventions around the world as a result of venue closures and quarantines forcing events to cancel. Due to this, many companies have sought out online alternatives to engage their attendees until they are able to safely run these sort of mass gatherings again. The logistics behind doing this, however, can be challenging. Social Factor and Talent For Cons have worked together to create a robust online Celebrity Interactive Experience for companies and organizations looking to bring their conventions to fans online. 
The overall concept is designed to be an uncomplicated but rewarding experience for the conventions, fans and celebrities with our team taking on the "heavy lifting" behind the scenes so that you, the event promoter, can focus on connecting with your fans.
Here's what's included:
Professional graphic design of social media optimized images for use by the convention and celebrity in promoting the online appearance.

Organic and paid promotions via the Talent For Cons social media channels about the appearance, tagging your event and the celebrity to drive traffic.

Online ticket sales portal creation and management.

Presentation of a one (1) hour live Q&A with the celebrity followed by a three (3) hour live

one on one

autograph signing with fans.

Shipping fulfillment of all autographs signed during the one on one sessions.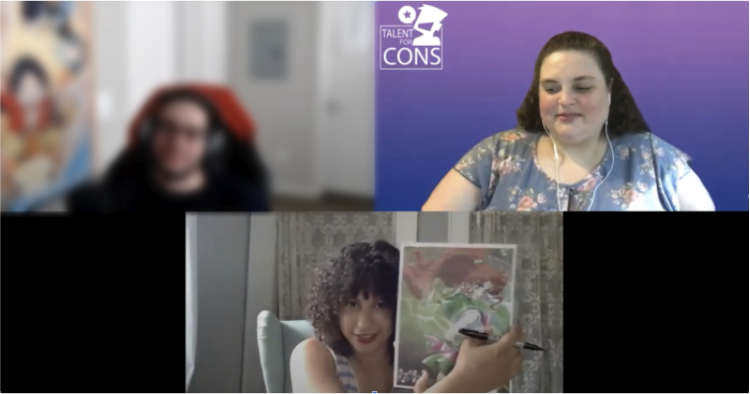 COST
The three hour live autograph event is enough time to host forty-two (42) one on one sessions – approximately fourteen (14) per hour. Autographs can run anywhere from $60-$100 based on the price requested by a celebrity. Social Factor and Talent For Cons charge a base price of $40 per autograph to start with for professional services plus printing and shipping fees. For a live one hour Q&A session followed by a three hour signing, a convention is expected to agree to a forty (40) autograph guarantee of sales. As an example: if a celebrity seeks $30 per autograph, then the combined guarantee (service + celebrity) would be $2,800 total. OPTIONAL: a non-live autograph, documented on video, can be offered in addition to this at a lower price point. Doing so, however, slightly increases the overall guarantee.
TALENT
Talent For Cons represents dozens of celebrities from anime, cartoons, video games, and Internet culture. You can review our current roster for options that your feel might best fit your event: TalentForCons.com/roster/
If you are looking to utilize talent from outside our roster, we can work with that celebrity's agent to see if an agreement can be made for an appearance utilizing our system. We have worked with other agencies on similar projects in the past, so solutions are often as easy as an email or a phone call.
GETTING STARTED
Have other questions or are you ready to get started? Call (407) 536-9272 or email us: contact@talentforcons.com. We look forward to hearing from you.